Welcome Aboard The Kye-OO-Gah
Winery ~ Dinner ~ Sunset Cruises
The ultimate lake to wineries and dining experience on cayuga lake
In the heart of the Finger Lakes is where you will find Cayuga Lake. It offers a unique blend of award-winning wines, scenic waterfalls and local gourmet eateries.
We would like to welcome you aboard our newest vessel, The Kye-OO-Gah. A beautiful and luxurious 25 ft. Tahoe Pontoon boat with a privacy room, porta potti, plenty of room, mood lighting and comfortable, plush seating. I have been a licensed US Coast Guard Charter Captain for 30+ years fishing Lake Ontario and the Finger Lakes aboard my fishing vessel Sea Wolf. http://seawolfcharters.net. I am a member of Lake Ontario Charter Boat Association (LOCBA), Lake Ontario Trout & Salmon Association (LOTSA), The Maritime Consortium and North America Fishing Club,
I take great pride in the service and mentorship I have provided my clients over the years. We now embark on a second venture that has evolved over the last few years, of providing Winery Cruises, Dinner Cruises and Sunset Cruises on Cayuga Lake in addition to the Sport-fishing Trout and Salmon Charters on Cayuga Lake and Lake Ontario.
Seneca Lake, Cayuga Lake and Keuka Lake each have a designated wine trail. On Cayuga Lake, there exists what just might be the only wine trail accessible by boat. There are six wineries on Cayuga Lake that have boating docks. What a splendorous way to tour the wineries aboard The Kye-OO-Gah.
The amazing thing about the wines of the Finger Lakes is that almost all the wines are priced under $20. Perhaps for this reason, plus the small production quantity, the wineries sell out of their wines. Some are exported, but most stay in the New York state. Many of the wineries only sell out of their tasting room or their online Web store. They are just happy and wonderful folks making enough wine to keep them busy and proud. It is unlike any wine region you will have visited. The Fingers Lakes is truly "A wine tasters paradise". This is all the more reason why you should visit the Finger Lakes.
Cayuga Lake and the surrounding area have much to offer you and your family. Stunning sunsets, a cool summer breeze, and a laid back relaxing atmosphere are just a few of the simple pleasures that you'll find aboard the Kye-OO-Gah Winery, Dinner and Sunset Cruises.
We look forward to having you aboard The Kye-OO-Gah with us. We promise you will have a memorable and "Unforgettable Lake to Wineries and Dining Experience".
Captain Joe Ebel
We are based out of Myers Park, Lansing NY
Locatio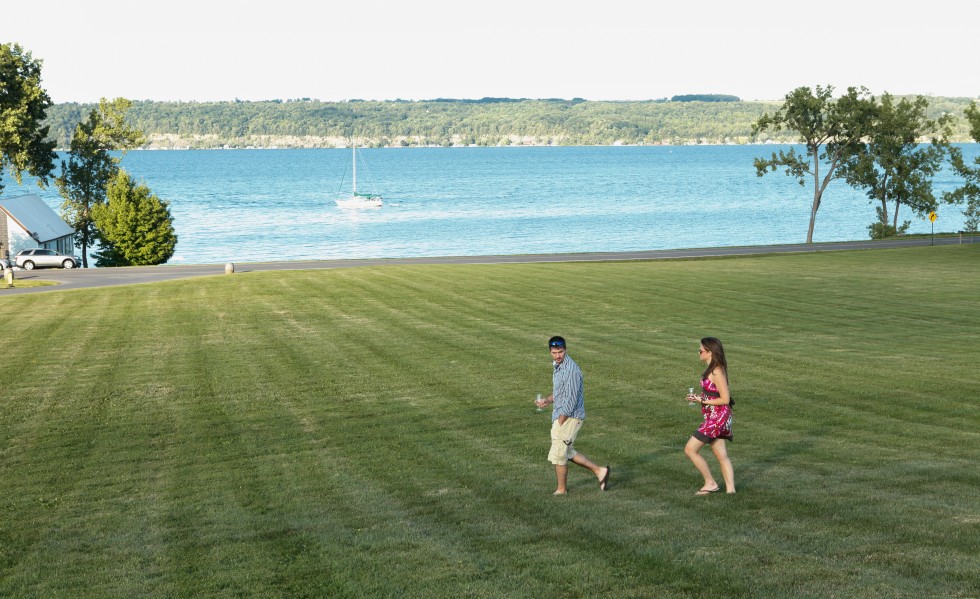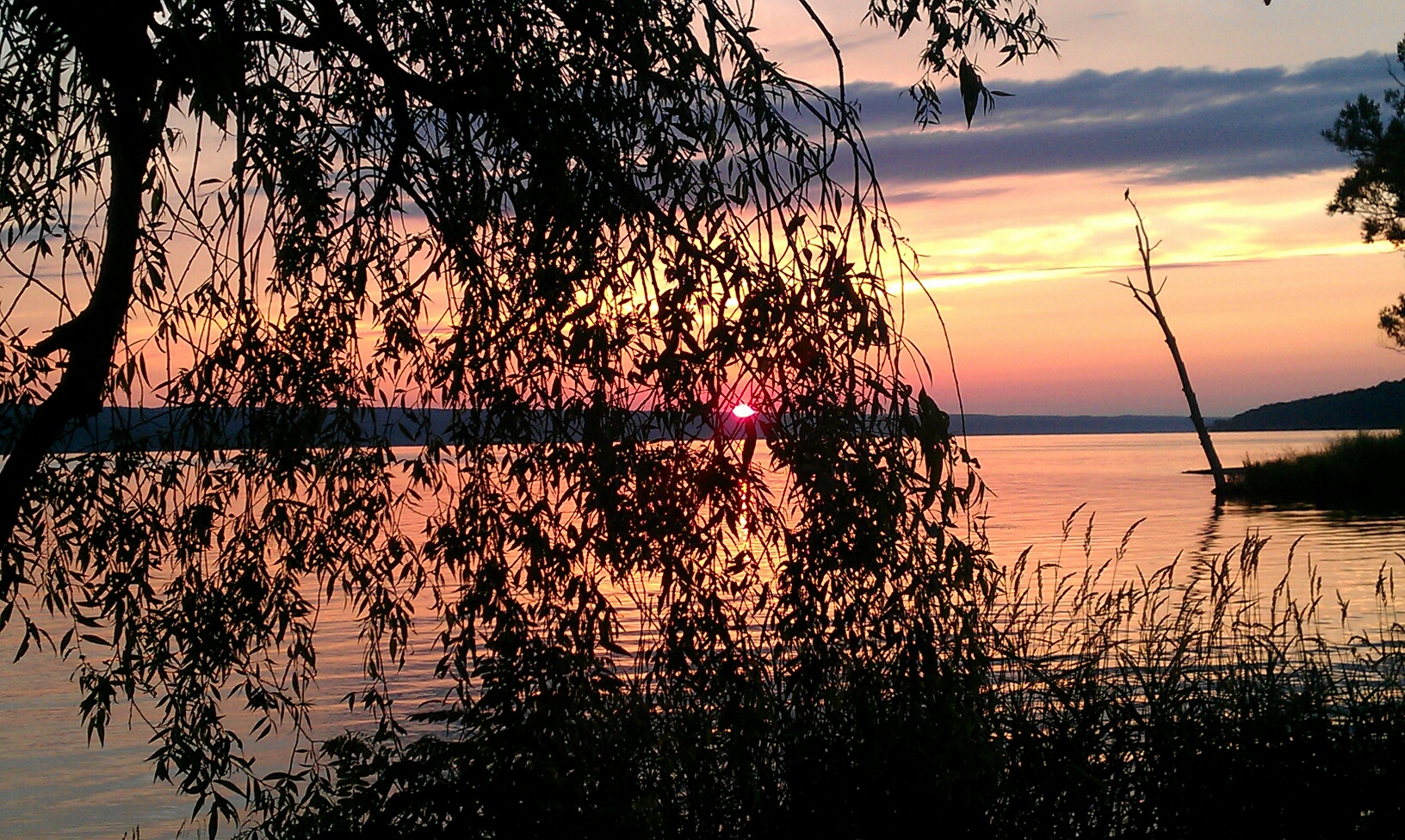 Wineries & Dining
TREELEAVEN WINERY
The oldest winery on the east side of Cayuga Lake, Treleaven by King Ferry winery has been crafting fine vinifera wines and fun proprietary blends since 1988. Treleaven celebrated their 30th anniversary in 2014, now producing about a dozen wines each year, harvesting estate grown fruit from 32 acres of vines. Treleaven's flagship varietal is Chardonnay, but they produce wine for every taste and every style including Rieslings,Gewurztraminer, Cabernet Franc, Merlot and Meritage! Treleaven pockets five gold medals…The winery was awarded five gold medals and three 'Best Buy' designations at the World Wine Championships by The Beverage Testing Institute. The five gold medals were give to the 2011 EIS Late Harvest Riesling, 2012 Dry Rosé [Best Buy], 2012 Semi-Dry Riesling [Best Buy], Apple Mystique [Best Buy], and 2011 Gewürtraminer. Browse their extensive gift shop featuring local and handmade products, join them for one of our many special events held throughout the year and enjoy a glass of wine in our spacious outback. The Treleaven family invites you to taste their award-winning wines in a casual and friendly atmosphere - once experienced, never forgotten!
At Goose Watch Winery, you'll have a truly unforgettable experience from their innovative award-winning wines to the captivating views of Cayuga Lake in their beautifully restored tasting room. Goose Watch Winery began production in 1997 under the wings of the Peterson Family, owners of Swedish Hill Winery. With 120 acres of land overlooking Cayuga Lake, the Peterson's have developed it into one of the most extraordinary wineries with a tasting room in a beautifully restored century old barn surrounded by vineyards, nut trees, gardens and breathtaking views. Nestled within one of the region's only commercial chestnut groves, Goose Watch has 21 acres of land dedicated to vineyards of six different grape varieties. The family continues to produce innovative wines including the newest release, the 2013 Aromella, which is the first varietal labeled wine released in the nation! The initial production at Goose Watch was 6,000 cases and has grown to reach over 15,000 annually. Specializing in some of the more uncommon wines such as their Riesling-Gewürztraminer and Viognier to their acclaimed Chambourcin and Lemberger as well as traditional favorites such as Pinot Grigio and Cabernet Sauvignon. The signature varietals and blends at Goose Watch have acquired numerous gold medals at numerous wine competitions including "Best Rose", "Best Sparkling", and "Best Dessert Wine" multiple years at the New York State Fair competitions. The wines continue to receive accolades in major national and international wine competitions, and have won 30 gold medals so far in 2014. Click here to see a complete listing of Goose Watch awards and medals. Goose Watch is sure to introduce and impress you with new flavors of the Finger Lakes. Feel free to join us by boat, and enjoy their spacious grounds and picnic facilities.
O'MALLEY'S CABIN ON THE LAKE
Schedule & Rates
All cruises are based on 4 person minimum and 6 person maximum.
To make a reservation please call or email before making payment!
To make a payment. Select your cruise below.
All trips based on a 4 person minimum. 6 person maximum.

To book a trip call or email below to schedule a date.

Deposit of 50% required. Deposit refunded if cancelled one week in advance.

Captain has the right to cancel trip due to weather or safety concerns, in which case we can reschedule your trip or refund your deposit.

Privacy room & porta potti on board.
Reservations
Call (607) 347–6289 or (607) 279-6636 from 9am – 9p daily, or drop us a note!